July 18, 2011


To the Military Moms and Wives of Brazoria County-
Thank you for the care packages and thank you for supporting the troops.
Sergeant First Class Andrew J.
Odland
Sergeant
Carleton
Thrall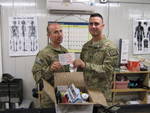 July 18, 2011
Thank you ma'am! My unit received the packages and were super thankful! We appreciate all the support! Thank you so much!
July 17,2011
Dear Ladies,
Your boxes arrived just a bit ago (all 430 of them!!!). Wow, to say that we are overwhelmed would be a serious understatement. I've been at this Marine Corps business for 24 years and am on my 4th combat deployment and I have NEVER seen such an outpouring. Must be because ya'll are from Texas! I'm from Plano, and have two college age kids in Texas (one at UT Austin, one at Texas A&M), so I guess I could be a little bit biased toward Texans, but you sure did show your true colors to the Marines and Sailors of this Regiment.
We are about 5,000 strong and are located in the Nimroz and Helmand Provinces of Afghanistan. We just hit the 6 month mark of our one year deployment, so your generosity could not have come at a better time. We are taking your boxes to the far flung reaches of our battlespace, to some young Marines who go without any amenities. They appreciate your generosity more than you can know. The attached pictures show you the relatively Spartan conditions our guys are in, and how VERY much your care packages mean to us. I've sent a card to you, but suspect that it will take weeks to get there. I also have a small something headed your way from the Marines and Sailors to properly thank you. It isn't a big package, but it represents all that we have and all that we fight for. We'll be home next Spring; about the time the Blue Bonnets come out, so until then, we'll pray for your health and safety and will continue to thank you for all that you did for us at a time when we needed the boost. You ladies are just tremendous. Thank you!
Semper fi
With great respect,
Eric M. Smith
Col, USMC
Commanding Officer
Regimental Combat Team-8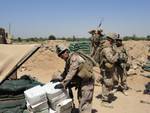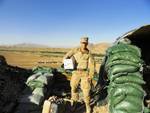 June 28,2011
Ma'am,
Thank you very much for the care packages. Our Soldiers greatly
appreciate your support and everything you do for all of us out here.
God bless you and your families. God speed.

Very Respectfully,
Fiapito T. Avegalio Jr
SFC, USA
April 27, 2011
Hello
Texas
Moms:
We have received care packages from you. On behalf of Bco 2-30th IN I thank you so much They were really exited to receive a package when not expected. Thank you for the ramen noodles and everything.
March 27,2011
Just wanted to take some time to say thank you me and some marines out in
Afghanistan
received a box full of goodies you ladies sent out and well I just wanted to say thank you for all your support and everything you ladies do for us we greatly appreciate it. I noticed the card was from the
Houston
area and that's where I'm from so I had to say thanks. Anyways my name is Lcpl Rodriguez Julian. And well I hope this greeting didn't come to late. Thanks again
J

March 12, 2011

Hello,
I am Petty Officer Second Class Theodore Triplett, most people call me Buddy. I am currently deployed on the USS Enterprise, which is an aircraft carrier. I can't really say where we are but that it is hot here. I was looking specifically for the Brazoria county branch, but I am sure this email will find its way. I just received a very generous gift from this organization and I wanted to relay my thanks and appreciation. We just received mail on my ship, and I had gotten 2 boxes. I was really surprised to find out that neither were from my mom or my wife. I really want to extend my thanks and gratitude to the Military Moms and Wives organization. I know there is a lot that goes into getting a care package out to someone, and that is not lost on me. When ever there is a mail call and care packages are involved it is like Christmas here. Spirits are high and everyone is sharing and laughing. It is a good break in the monotony. I could never really thank you enough for your kindness and it truly does mean a lot to me. Thank you
Very Respectfully,
MM2(SW) Theodore Triplett

USS Enterprise REA/RA/STAO
February 13, 2011
Dear Military Moms and Wives

I recently received a care package and found the American Flag bandana and other items enclosed. What a great idea to have to have everyone sign the flag as a deployment memento. Your hard work in this program does not go unnoticed and all the soldier enjoy your packages.

Thanks for making our year long deployment a little easier.
CPT Tim Orcutt
January 18, 2011
Mary,
Thank you, and please thank all the fantastic ladies at
Military Moms And Wives Of

Brazoria County
. All your hard work and support made it that much more bearable to be here during the holidays. Everyone of my soldiers/sailors has been impacted by your gifts and letters. I am very happy to say that we are redeploying very soon back home to our families and loved ones. I'm also happy to say that" everyone" is making it back home. No serious injuries and or mishaps. Training,"motivation", and "Morale" are key contributing factors to our success. Thanks for adding to our"Motivation and Morale"!
Hoorah!
God bless you all.
Sincerely,
UT1 Andrew Vetter
DET II Sharana
Afghanistan


January 9, 2011

MMWBC,
On behalf of the 3DLAR WOLFPACK battalion out here in
Afghanistan
, I
would like to extend my appreciation for receiving your generous care
packages that we just received. Now I know the mail is pretty slow
coming out here, but we do get it sooner or later. Our marines and
sailors will enjoy your thoughts by putting these together. For your
kindness we say thank you.
Blessings from the Pack,
Chaplain Keener
January 7, 2011
My Name is Msgt Jeremy Hadden and I am currently deployed to

Afghanistan

in support of Enduring Freedom. First of all I want to say thank you for the box of goodies and cards that I recently received from you. It is because of people and groups like all of you that people like me and my co-workers can do what we do day in and day out. The support of our military has come two fold from the days of

Vietnam

and how our veterans were treated back then. Also, I believe that today's service members are as great of warriors as of past veterans because we have volunteered for this service and know firsthand the commitment and sacrifice that we the veteran and those, the family members and friends have given. A little about myself, I was born in

Stevens Point

, WI and lived and grew up in

Plainfield

, WI where I attended Tri-county Area Schools until graduation. I spent 4 years in the

U.S. Air Force

working on F-16

Fighter Aircraft

as a Crew Chief. After my 4 years of active service was finished I was able to get a full time job with the WI

Air National Guard

out of

Madison

, WI working on the states F-16's assigned to them. After 5 years in Madison I was able to switch to the Air Force Reserve and took a Job with them at Luke AFB, AZ located in Phoenix AZ. Again this was as an aircraft Mechanic. In 2005 the reserve unit that I was with was hit with the BRAC (Base Re-alignment and Closure) and I was able to get a transfer to Minneapolis, MN working with the 934th Air Wing. I am still an aircraft mechanic but now work on C-130 instead of the F-16. The easiest way to tell people the difference between the 2 aircraft is that the F-16 is like a Corvette and the C-130 is like a John Deere tractor (or any other make tractor). The F-16 was fast and agile where as the C-130 is slow but powerful. This is my fourth deployment since 9/11/2001 and I am proud of everyone them. Again this feeling of being proud and patriotic is because of people like all of you. I wanted to send a quick email to let you all know that I am deeply appreciative of the goodies box and cards that you all sent, and that it was shared will all my co-workers.
Thanks again for your support of myself and my fellow Airman and soldiers.
Sincerely,
MSgt Jeremy Hadden
Ladies,
This is
MSgt Scott Reynolds
with the 335th Signal Command in
Kandahar, Afghanistan
. I would like to personally thank you for all of the letters and goodies that were sent over here for all of my guys. They are very appreciative and love everything! It is absolutely incredible the amount of stuff that your group sent over here for us. Again Thank You from each and everyone one of us over here and thank you for all of the sacrifices that you ladies endure being Mothers and Wives of our great Military. If there is anything at all our guys can do for you in return please let us know.
MSgt Reynolds.
December 24,2010