We received these notes from soldiers for the packages we send. Addresses are removed for safety reasons. Thank You letters are listed newest to oldest. Most recent are at the top.
August 21, 2017


Hello MMAWs,
Just wanted to send a quick note of thanks in advance on behalf of the troops here at TB Dwyer, Helmand Province, Afghanistan.
Several tri-walls containing packages arrived here today! Wow you guys are good!
These were delivered to Rick Bazinaw of our MHE transportation department who is coordinating getting them distributed to your military heroes.
As civilian employees here we get to witness these extraordinary guys and gals up close. We are as proud of them as you are!!
You generosity of time, money, and effort does not go to waste. Just thought you should know that.
And what a lesson you are teaching those wonderful children whose art work accompanies those boxes. Really awesome!
I attached a couple from the first boxes opened. Thanks Drayton and Genesis (and all the little artists), for the cool artwork!!!
And thanks to you Moms and Wives of Brazoria County for all you do to support the troops!!
We'll do our best to keep taking care of them here, so that they can do what they do and return home safely to you and yours!
Keep up the good work!
Sincerely,
Jim Worthy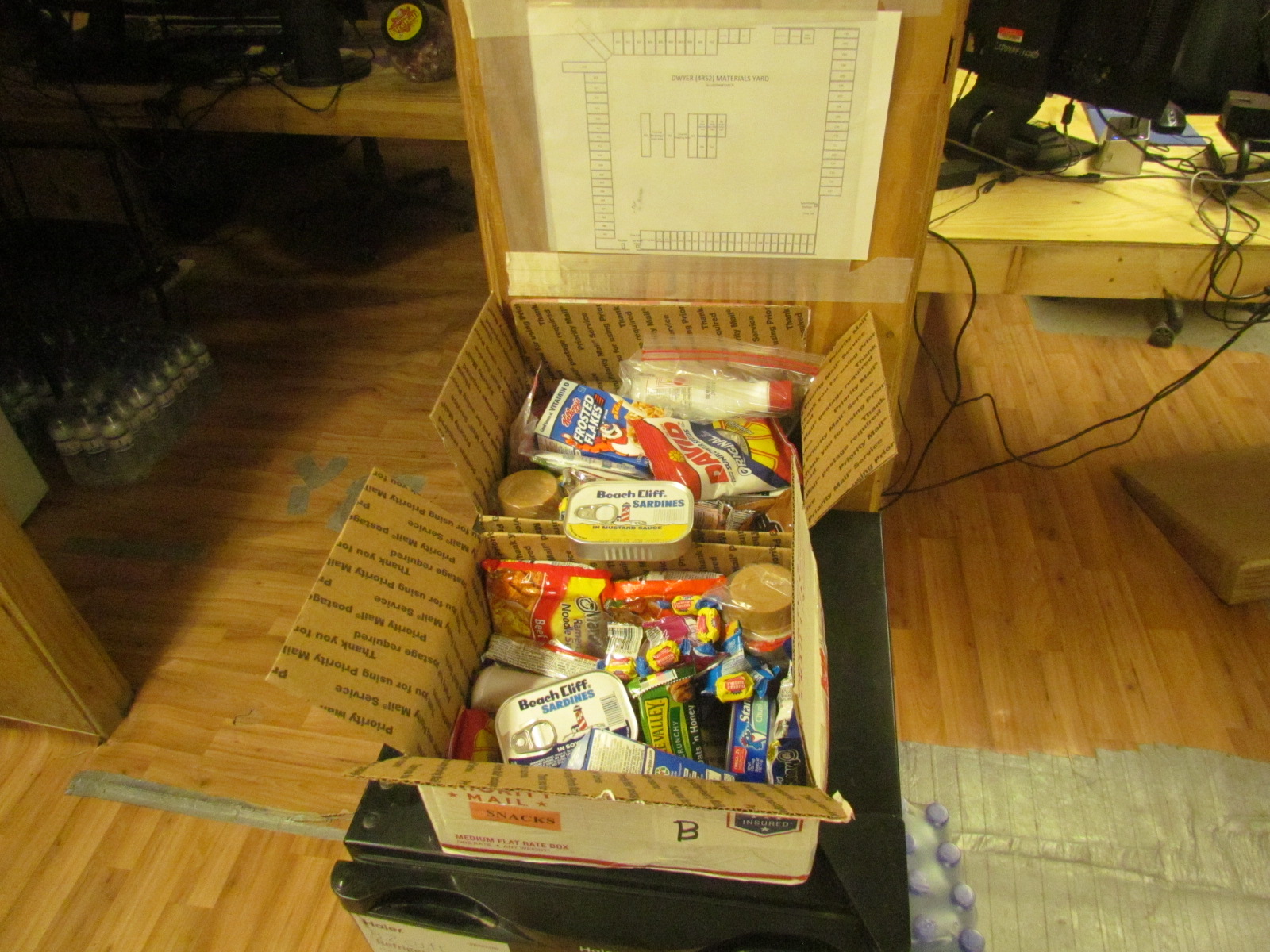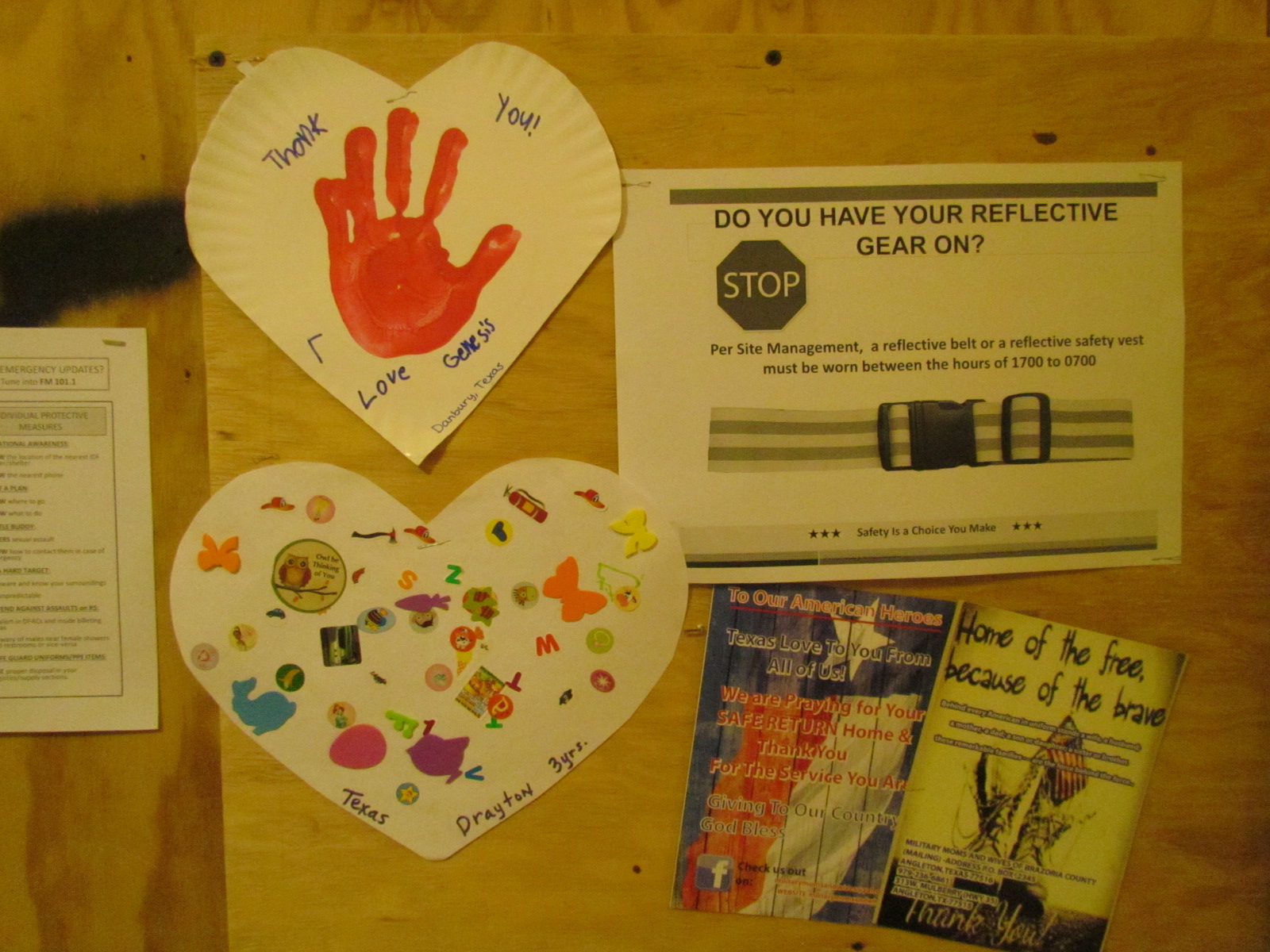 August 7, 2017


Dear Military Moms and Wives,
I would just like to thank you for the recent welfare parcels we received at BESMAYA (IRAQ) today.
My name is SSgt Neil Coleman from 22 Engineer Regiment. I have been in the British Army since 2002 and have, throughout my years in the regular Army, been deployed to many different Operations around the world; including Afghanistan and Iraq.
Currently I am deployed on OPERATION SHADER 5 which is a stabilisation mission which sees coalition forces deployed to Iraq, in order to train the Iraqi forces to defeat Daesh (ISIS) in Mosul. This includes Spanish, Portuguese, British and of course American soldiers.
As you can imagine, being sent on overseas Operations to a country as hostile as Iraq makes it a logistical nightmare. This has resulted to a decline in welfare resources and getting anything other than rationed foods. Being such a fantastic organisations, (British/U.S. Army) we always manage to strive for excellence and always manage to get through such extreme conditions. However, I am always overwhelmed by the generosity of the general public and organisations such as Military Moms and Wives.
Our ability to continue to be such great Army's massively relies on the support from back home in the U.K. and U.S.A. Without the support of people like you, life would be very different here.
On behalf of all the troops deployed here I would just like to thank you for all the support, especially us in BESMAYA.
SSgt Neil Coleman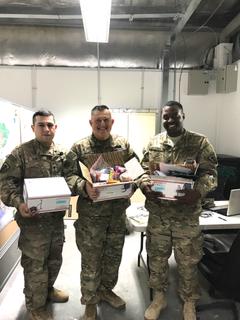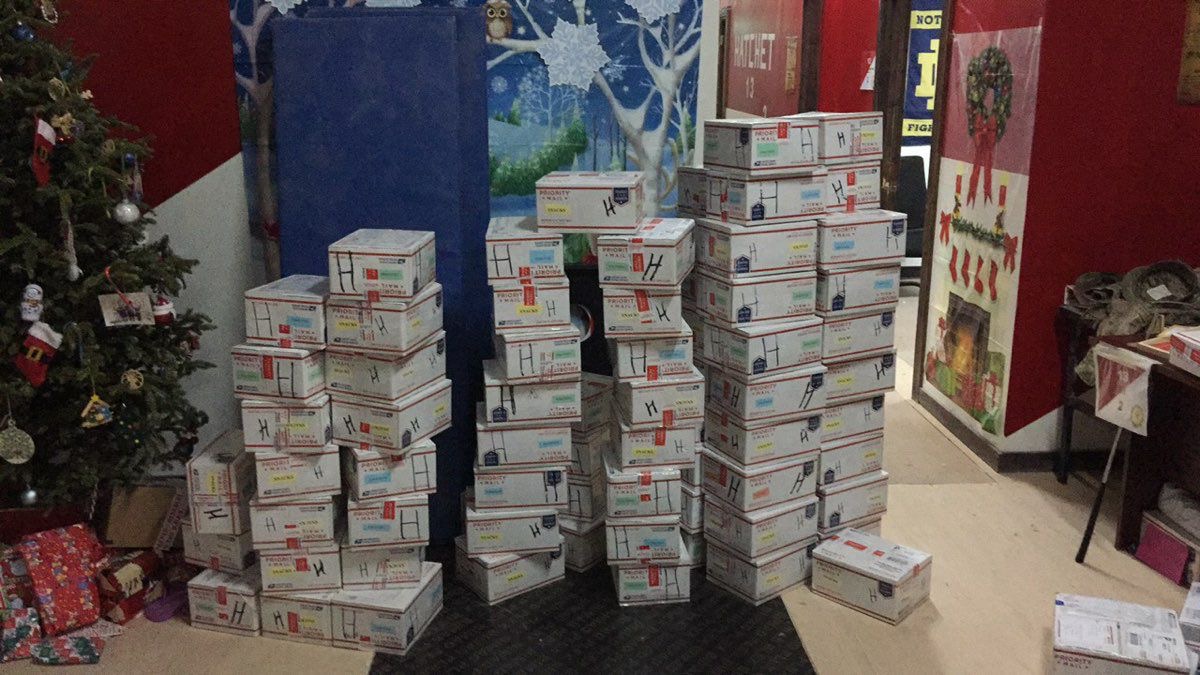 January 21, 2017
We received the care packages and they were great (THANK YOU). I can't tell you where they made it to, but the boxes where greatly appreciated. We're in a location where you can't get any American Products including toiletries so your gifts are greatly appreciated and in good use. Please pass on our thanks and gratitude for the all the items that were sent and especially the time and support they give us. This is my fourth deployment in the last three years and people don't realize how much we appreciate and actually use ALL the items. There are times and places that don't have items available that we take for granted every day, so it's good to know that we can grab a tube of soap, powder or whatever to hold us over till our shipment comes in. I live near the Texas Panhandle so really enjoyed the taste from home.

Thank you again to you and your community for the support of our deployed members. Its organizations and Clubs like yours that make the United States the greatest Country on Earth.

Respectfully,
Mr. Erin Corder



January 21, 2017
My name is SSG Grace serving with the NYARNG.
We recently received some care packages from your organization and I wanted to take the time to thank you. We all enjoyed the personal notes enclosed from school children and others concerned. The supplies and sentiments were received with big smiles.
What you are doing truly makes a difference in a deployed soldiers day. All whom I am serving here with extend their gratitude!!
Please find the attached pic of a couple of the enclosed drawings, cards and notes.
A special thanks to Gregory who's personal letter brought a lot of joy!!
Sincerely,
Deployed service members!!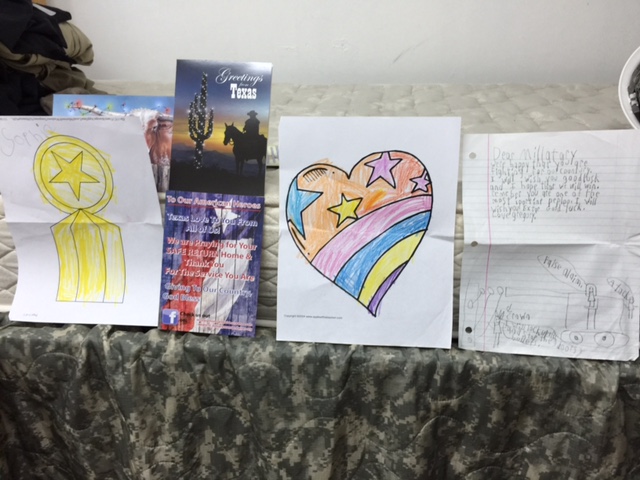 August 16, 2016
Good Afternoon Ladies,

I was one of the recipient of the care packages and goodies sent to Mr. Voss. He shared them with the OSC-I family.
I can't tell you how much I appreciate what you've done. For me, it was like sending a box of LOVE so neatly packed and wrapped.

Because you all were a blessing to Mr. Voss, he intern blessed us as well through your organization. Thank you for being a blessing!

Respectfullly
Ms. Josephine Fludd
December 16, 2015
Military Moms and Wives,

You recently sent several care packages our way and I wanted to let you know
your efforts are truly appreciated! The boxes will be disseminated to many
Air Force Defenders and I'm sure, will brighten their day. It's difficult
being separated from family and loved ones, even more so during the holiday
season, but it's heartwarming knowing that there are groups such as yours that
help to take care of us while we're away.

I hope you all understand just how much of a difference receiving these
packages makes, especially to our younger Airmen who may be experiencing their
first deployment and separation from family. To whomever reads this response,
please know we are grateful to be in your thoughts and hope you all have a
wonderful Holiday season!

Very sincerely yours,
Master Sergeant Michael Davis
379th Expeditionary Security Forces Squadron



July 5, 2015

All,
We are currently serving in a very remote site in Afghanistan. We just kicked off our Christmas in July campaign for the residents of our base. As part of that, the chaplain passed along a care package from you to me and each of the eight soldiers in my care. I have to admit it was a little like Christmas in that they were all surprised at the gift. They were all the more pleased when they opened them and found the thought and care that was taken to pack the box as tight as it could be with things that we hae trouble getting our hands on. Your efforts are much appreciated and we will remember you long after the contents of our surprise gift box have gone.
God bless you and keep you.
Respectfully, Joel Ellington SAIC, CIT 3218



July 5, 2015

Dear Military Moms and Wives,
I wanted to take a minute to say thank you for your care packages but didn't want to wait for a letter to get to you weeks after we've received the snacks and toiletries. It's difficult to describe the feeling of seeing what equates to an entire truck load of care packages being hauled into our offices and stacked into cardboard fortresses that would make any 13-year-old jealous. The response was one that I'm sure anyone in your organization would've loved to witness. Soldiers lined up 50 at a time to help distribute and take delivery of a package. Some Soldiers didn't walk more than ten feet away before opening their snack boxes. Among the favorite items were: · Rice Krispies Treats · Girl Scout Cookies · Jolly Ranchers · Peanut Butter Cups · Tuna Packets · Hot Sauce I didn't personally take a toiletries box, however, those went fast as well. I feel like saying "thank you" really isn't enough considering the time, effort, and money that went into these packages. The fact that Soldiers here aren't being forgotten is a huge gift in and of itself. Thank you again to all of those who participated in putting these together and sending them to the troops stationed here. Your generosity speaks volumes and provides everyone with a reminder of why we're doing what we're doing. Best of luck to all of those in your organization and thanks again for everything you've done.
Very Respectfully, 1LT Barker, Jeffrey Demon Company LNO
December 28, 2014

Military Moms and Wives,
I just wanted to say thank you for taking the time to send our unit all the great care packages! They will definitely be put to use and have made a lot of soldiers very happy. I hope all is well back home and wish all of you a Happy New Year!
V/R,
SGT Duke, Christopher
68C LVN, Operations NCO
Camp Buehring TMC, Kuwait
438-2841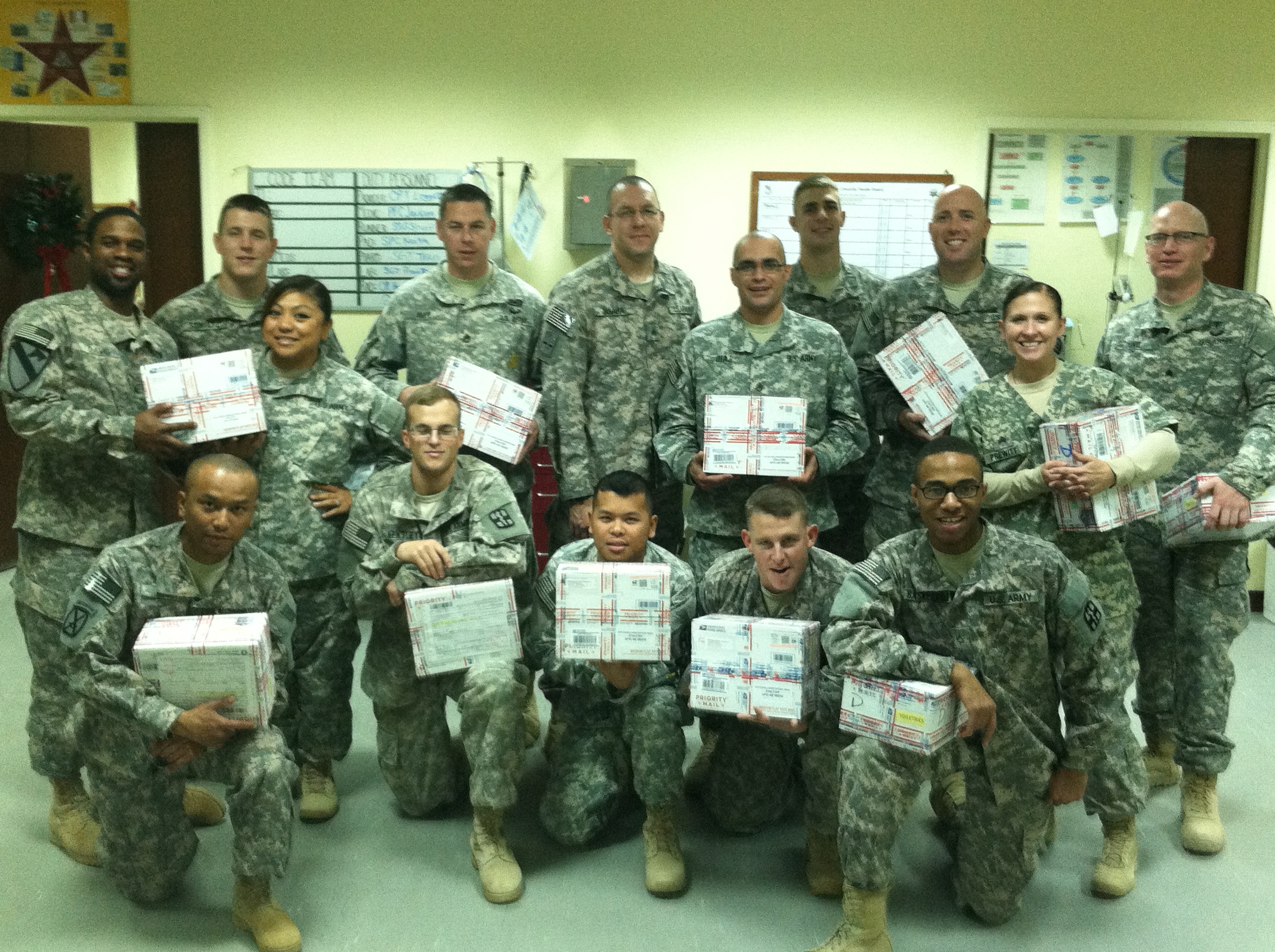 July 1, 2014
MS. Moreno,
We received our care packages for USS Roosevelt sailors!!!! Thank you so much and we are greatly appreciative!!!!! Every one who received your packages were amazed and said that they were the best operational care packages they have seen or received! Your organization amazes me every time and you are doing a great job. Please let everyone who volunteers that they are truly appreciated, and tell them thank you for making our moral on this long deployment higher with all the gifts, and food!!! Also the abundance of boxes per person was pretty amazing! I know there were a few sailors on board who didn't receive packages out side of my division and donated some of my boxes. You guys again are doing a phenomenal job and play a big role in our Nations Military. Thank you and God Bless.
P.S. Thanks again for the flowers for my wife it was so great for you guys to take care of all of us.

Very Respectfully,
GM1(SW) Kerry M. Cobb U.S.N.
June 29, 2014

To whom it may concern,

From the very bottom of my heart, thank you so very much for the care
packages that your group has sent. You have no idea how comforting it is to
receive a simple package in the mail. People rarely have the time to
respond. This dawned on me and I forced the time to get to a computer and
send this to your group. From all of the Marines who are attached to
HMLA-467, I want to personally thank everyone who was involved. Just to see
the moral boost like this is simply astonishing. There are some people out
here who haven't received anything; not even a simple "just thinking of you"
card. The simple things in life are often the most missed, so things like
dental floss seems like a God send after a long time away from family. I
have a wife and two great children at home and I receive packages about once
a month or so, but I got a hand-made card from a child named Wilson, and I
couldn't stop smiling from ear to ear. I know that I can never repay you or
your organization; or to even thank Wilson for the card.

I could go on and on about how great these boxes are for the guys out here,
but there is no way for me to ever truly verbalize how truly grateful we all
are for the packages. But what I can verbalize is a very sincere Thank You
and may God bless you and yours.

God Bless,
Sgt Green, Leroy
HMLA-467

P.S. We were told that we could send a thank you note on an index card, but
I felt that was not an adequate way to express my gratitude.
June 19, 2014
I am a Marine stationed in Kuwait and I understand it is early in the morning back there in Texas, however where I am it is in the afternoon. I'm also from Texas, a small northeastern town called Texarkana. I just wanted to email you ladies and say thank you very much for you care packages. They were well needed and will be put to good use. Thank the children for their cards. I received a card from Valentina. It was cute and sweet. Tell her I said thank you. Keep the packages coming! I hope to hear from you ladies soon! :)
-LCPL Downs
December 31, 2013

Good morning,
My names is SFC Miranda, I am the 1SG from 51st Transportation Company stationed here in Bagram Afghanistan. On behalf of the Officer, Non-commissioned, Soldiers from the company i would like to thank you for the care packages. May God bless you all, Merry Christmas and Happy New Year.. Steel Knights 7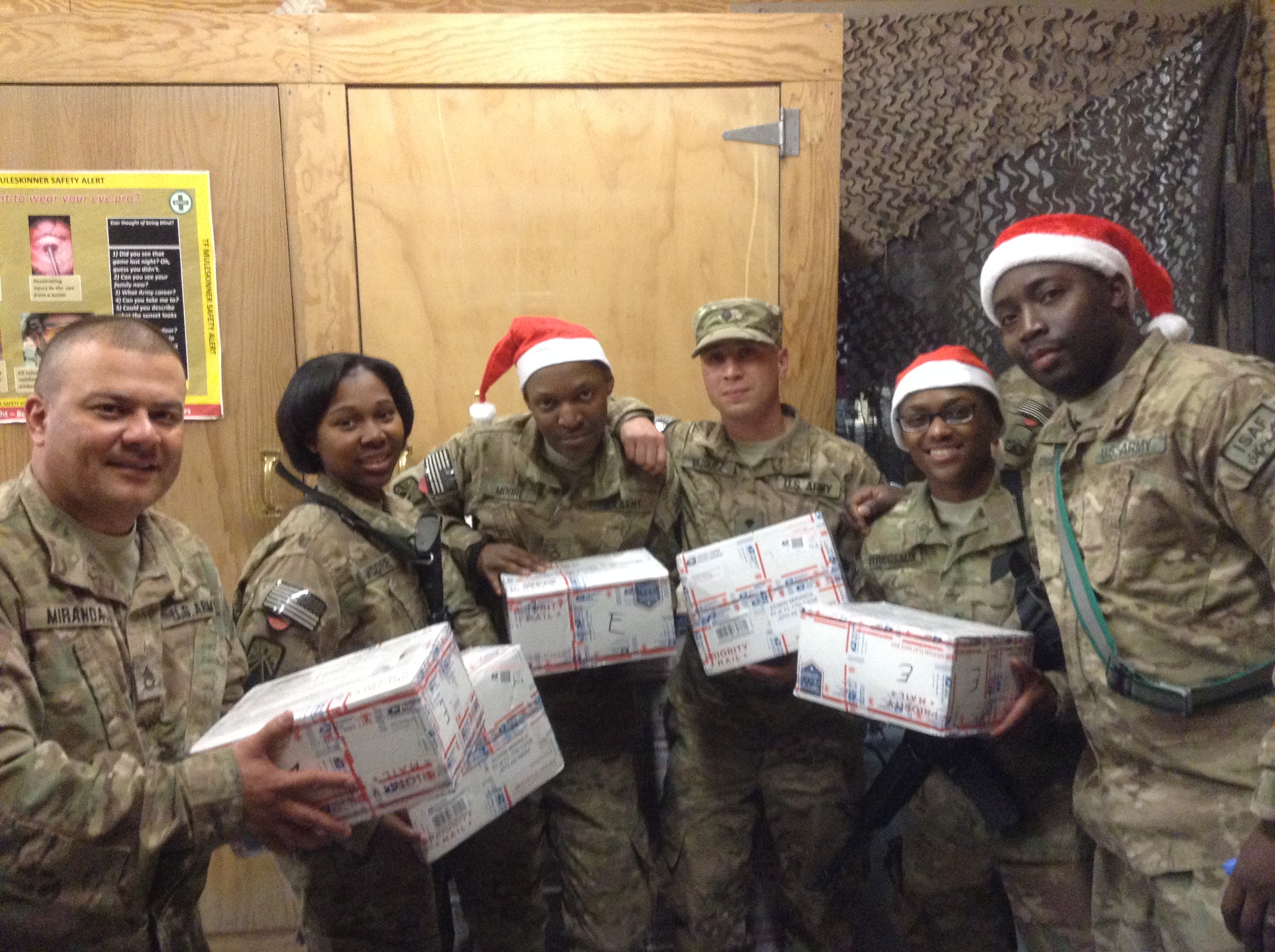 December 31, 2013

Military Moms and Wives,
I just wanted to thank you personally for taking the time to think about us and sending the care packages to our unit in care of GySgt Bradshaw VMM-265. We took a picture of all of us with the packages to help show our appreciation and those should be to you shortly. I received a card made to look like a Texas flag from Annalise, age 9 from Friendswood Texas. If you can please tell her thank you and that she did a great job on the card I'd appreciate it and that it meant a lot. Thanks for all the great things in the care package. It's great people like you that make our country so incredible. Thanks again, have a Merry Christmas and a Happy New Year.
Thanks,
Capt Lott
December 29, 2013

Ms Moreno,

We received the care packages, and we are all incredibly thankful! Surely there will be reply letters sent to the box makers. The packages arrived in two separate shipments. The first shipment arrived just before Christmas, and I was able to gather enough Marines to make a picture for the Military Moms & Wives. See attached. Once again, we are sincerely thankful for the thoughts, prayers, and support while deployed in the Far East.

Semper Fidelis,
Gunnery Sergeant Bradshaw, C.A.

VMM-265 (Reinforced)
Dragons

December 29, 2013
Ladies,

Thank you so much for your care packages. In actuality I got them because the initial person had PCSd but it always warms my heart to see people from back home that not only think of a soldiers situation, they act on it. I've been doing this for about 17 years and Its gets me every time. I just wanted to send a few words to say thank you and keep up the great work ladies....its greatly appreciated.

V/r
SFC Jason Bazmore
BN OPS SGT, 3-16
Camp Patriot(Kuwait Naval Base),Kuwait
December 29, 2013

Good Morning Ladies,

I wanted to thank you on behalf of myself and my shop for the great packages
that were sent to us. We appreciate the letters from Morgan and Theresa as
well. It is nice to have a better understanding of the people that put the
care into sending us these packages. I can't thank you enough for putting
your time into comforting troops deployed in Afghanistan. Every little thing
that reminds me of home makes my day that much better. I hope you have a
wonderful holiday with your families and wish the best for you in the
future.

Sincerely,
LCpl Dartagnan Russell
HMLA-369 USMC
December 23, 2013

Hello my name is David Larkins and I just wanted to say thank you very much for a care package that we received today. I am retired from the Air Force but now working as a civilian with the Marines in Afghanistan. Everyone over here appreciates all that you do and it's is nice to know that there are people in the US that still care and think about the troops. Again thanks so much for your support.
v/r
MSgt David Larkins USAF (Ret.)



July 19, 2013
To the Military Moms and Wives

Thank you for your care packages, it is greatly appreciated. Your gifts and words of encouragement from home have no doubt brought strength and courage to the Marines separated from loved ones during times of hardship and long periods of separation while being deployed.


...
God bless

MSgt McGowan
VMM-265
31st Marine Expeditionary Unit

July 12, 2013
Look at what we received today in the mail from one of our American Heroes - Omar Valdez
173d Brigade Support Battalion Task Force Repel
FOB Shank Afghanistan
USA flag flown on 26th of February in our Honor ( wow)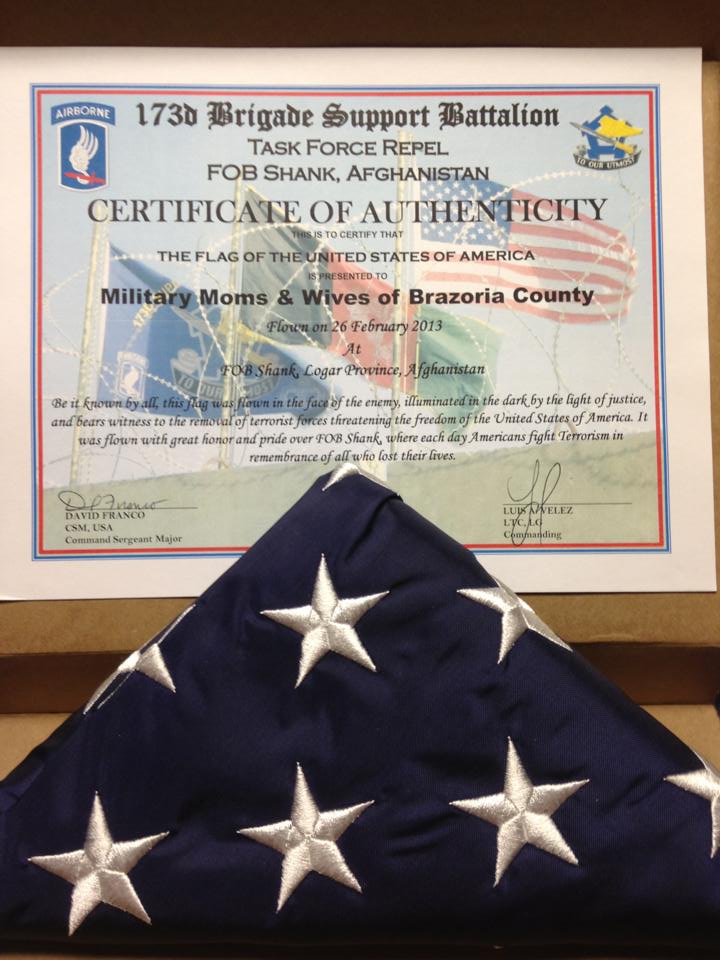 July 12, 2013
Here is another one we received from Alpha Company Navel SG FWD camp Airfjan Kuwait
C.T. Brown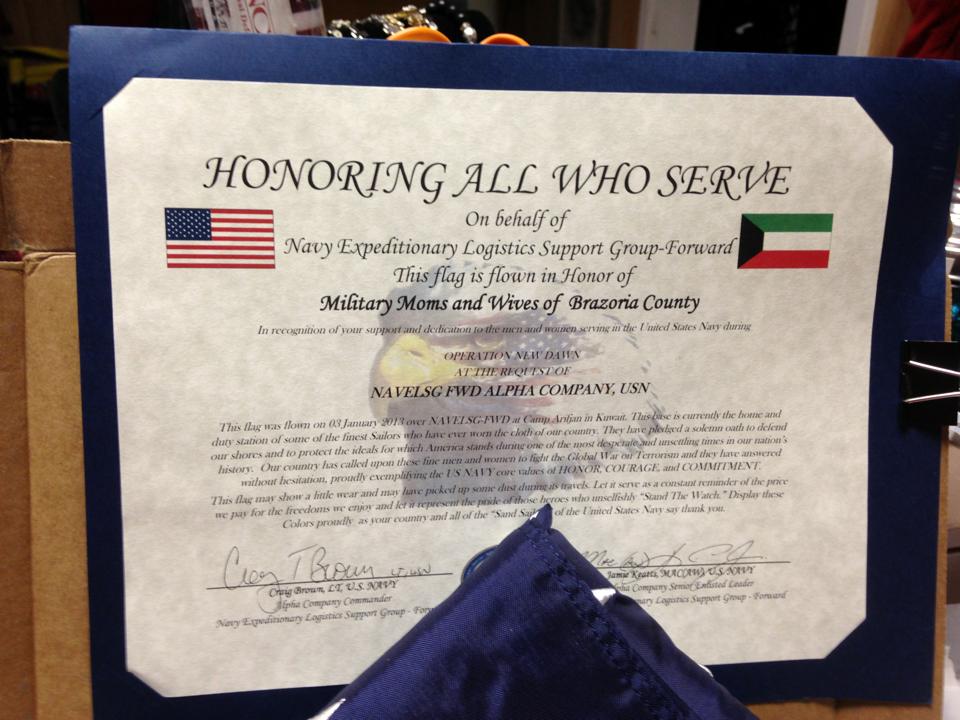 July 1, 2013
Dear Military Moms and Wives,
I am with VMA-214 "The Black Sheep" out of Yuma, AZ. A few of our Marines recently received one of your care packages while being deployed on our Western Pacific deployment. Being a fellow Texan, I am especially thankful for the support and generosity of my home state. The Marines and I thoroughly enjoyed a touch of home while being aboard ship and deployed. It is the awesome support of our patriotic friends and families that keep us going daily. Please accept my "Thanks", from the bottom of my heart!

R/S
GySgt Grace
VMA-214 "Black Sheep"
Lubbock, Texas Native
Texas Tech Fan "Guns Up!"
June 30, 2013
Thanks to the Military Moms and Wives of Brazoria County from the 137th Sapper Company. Your care packages were appreciated throughout the company, and we would like to share this picture with you as a gesture of our thanks. Thanks for supporting all of our troops, and being great Americans and patriots.
Adam Peters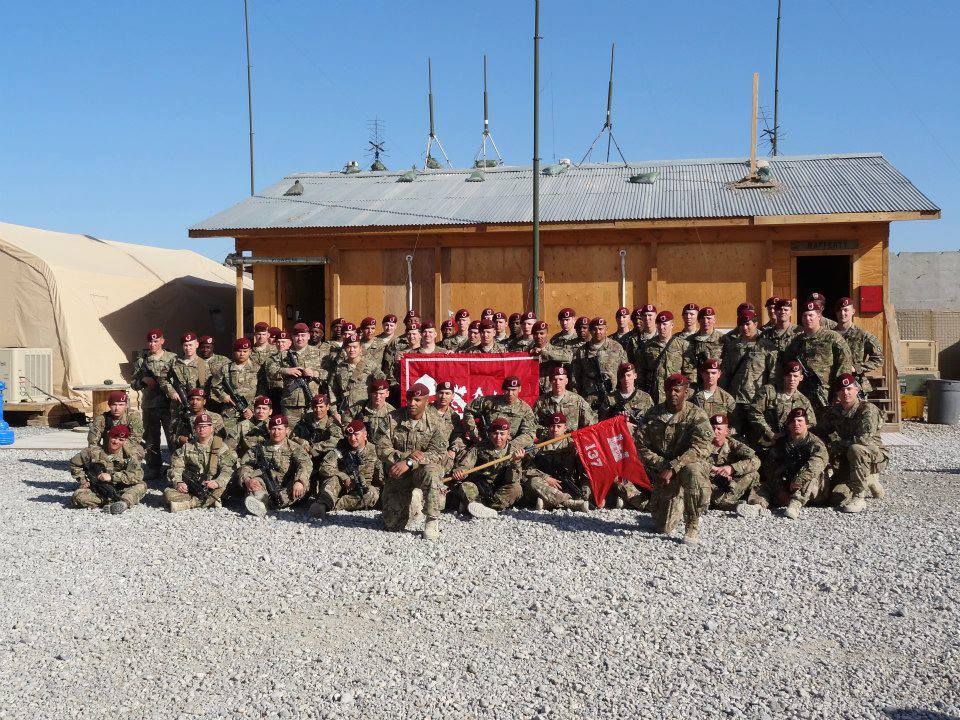 June 25, 2013
Dear Military Moms and Wives of Brazoria County, On behalf of the
Warriors of Task Force Dragon (1-501st AVN REG), thank you so very much
for the tremendous generosity and what you folks do to make sure we are
taken care of!! We were blown away by the awesome support in care
packages, encouraging words, and just simply knowing that there are fine
folks like you all who are keeping us in your thoughts and prayers!
Attached are some pictures of our Soldiers. God bless you all!
Picture notes: the pictures of the gator and trailer contains only less
than half of the packages we received so far!!

V/R,
CH (CPT) Roland O. Geyrozaga II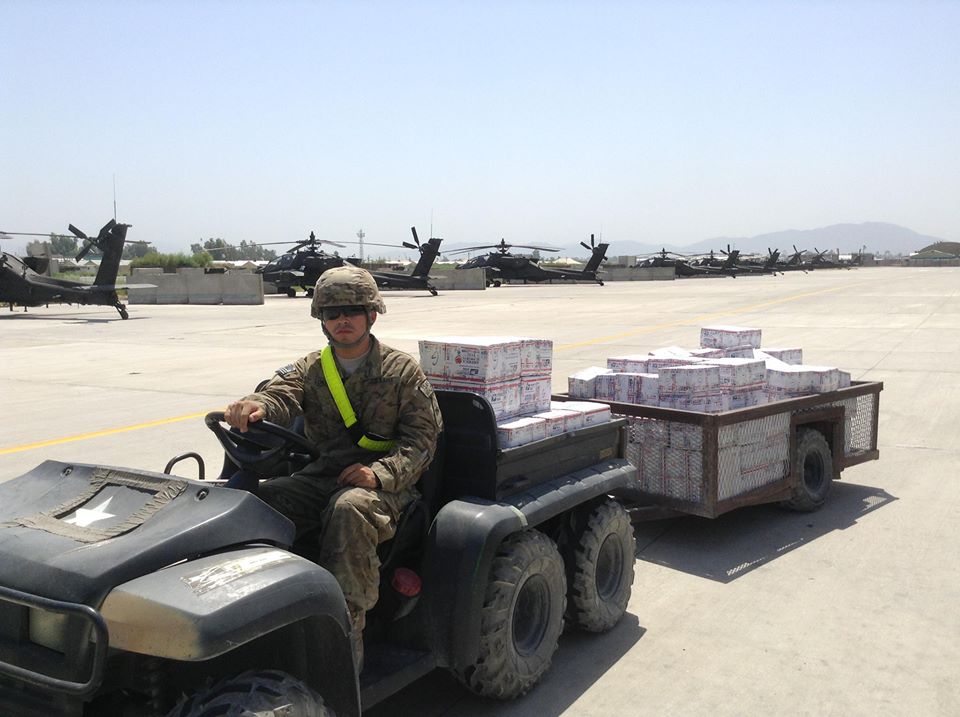 June 25, 2013
Just a quick note to say Thank You for taking care of the deployed
Soldiers---we received the packages today and they all went like hot
cakes---please tell the Team that we send our love and appreciation for
that you have done for us---attached are a few pictures of the great
impact you have made on our morale.

The contents were spot on---the Soldiers were ecstatic and could not
believe the generosity and support of your volunteers---your efforts
made a direct impact on all of us during this difficult deployment.

Thank you, thank you, thank you for all that you are doing to keep our
spirits up on Forward Operating Base Joyce---it means the world to us.

Respectfully,
CSM Victor Fernandez II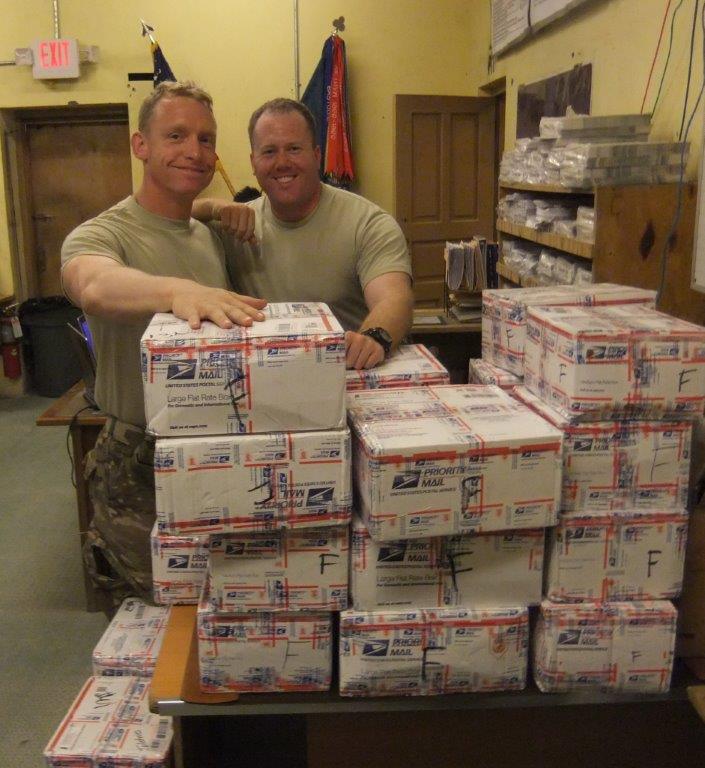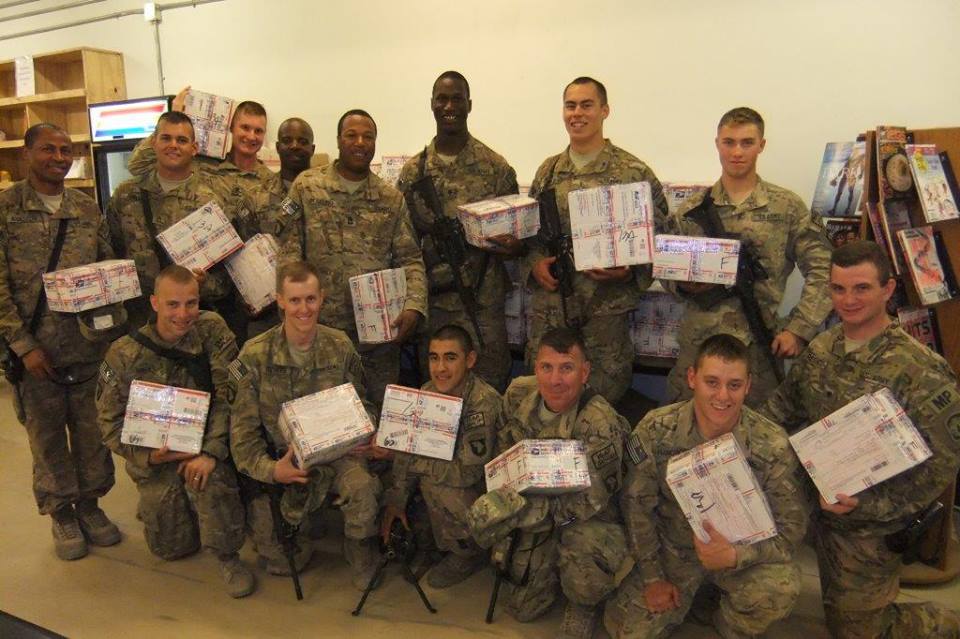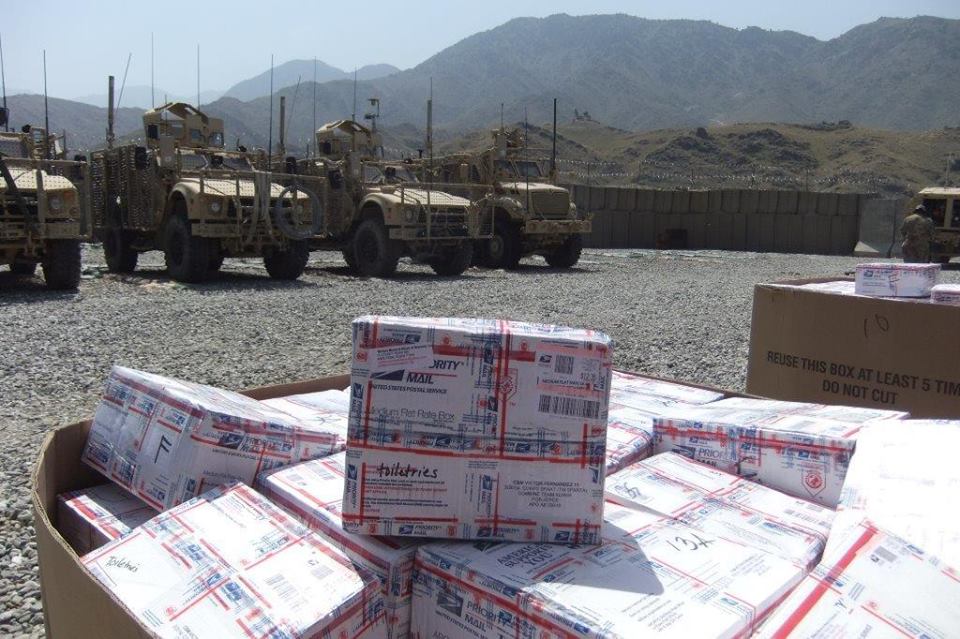 June 25, 2013
I would like to extend a huge thank you to all that gave of their time
to package these wonderful gifts we received here at Camp Leatherneck,
Afghanistan. I have received approximately 100 boxes over the last two
weeks. They have been distributed to the thankful Marines of HMLA-167
based in Jacksonville, N.C. Many of them approached me after receiving
the box and said thank you. Some of them were about to purchase many
of the items you all sent. The timing was perfect and the toiletries
and snacks will be put to good use. Please extend our gratitude and
thanks to the fundraisers, organizers, and all others that made this
possible. It does not go unnoticed or unappreciated. Due to security
reasons, I was not able to take a picture of the Marines and their
boxes. I have taken a picture of the first batch I received. Thank you
for supporting us and not forgetting that we are still here fighting
the good fight. May God continue to bless you all!

Chuck Miller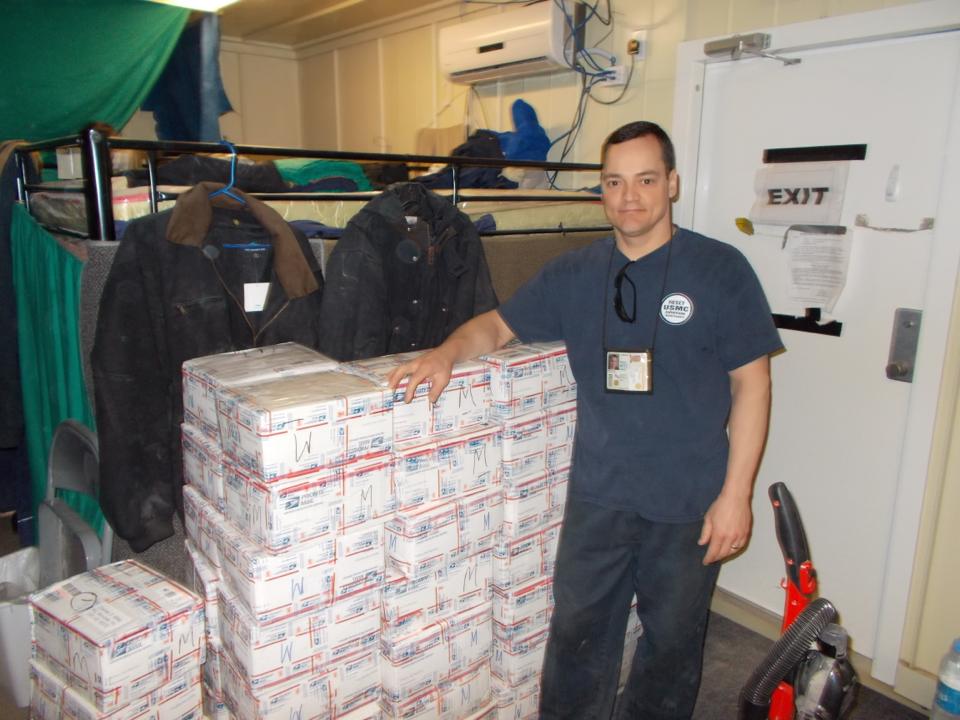 June 25, 2013
I just want to thank you and your organization for supporting us while we are deployed. I am a Marine currently on my 4th deployment and away from my Wife, Son, and Daughter it has been very stressful and difficult time for us, but we are getting buy. Your care packages have been very appreciated by all the Marines in my unit and I just want to thank you for doing this for us. Your care packages has brought a lot of smiles on the Marines that work for me and we want to let your organization know that you are making a difference and to keep doing what your doing. Again thank you don't worry about us to much out there we are doing ok and we all cant wait to get back home.

Semper Fi,

GySgt Stetler
June 22, 2013
To whom it may concern,

I just received a care package from your organization today, and want to say thank you!!!!! It means a lot when total strangers donate their time and effort to soldiers deployed overseas, and shows me just how great our country really is. God bless and again thank you!!!!

MA3 Steven Richardson
June 21, 2013
Dear Texas,

My Platoon and myself say thank you for the care packages that we recieved today. We are blessed to have to have organizations like you to send us our essential needs when they are not available to us. We appreciate you all so much! There are so many of us who are young and who never deployed before, such as myself, you really start to miss the small things that are always handed out to you. And with these carepackages it makes us feel more like at home. Thank you for all of your support!


Thanks from, UAV PLT
SPC Earnest, Jonathan
June 21, 2013
To the Military Moms & wives of Brazoria Co.

I am MSgt Tim Thorn From Marine Light Attack Helicopter Squadron 167 from Marine Corps Air Station New River NC. We have received 16 boxes from your organization and I would like to take the time to thank your organization for supporting us here in Afghanistan. We have been here a little over a month now and the Marines are doing well but still miss home and when they receive packages like the ones your organization you can see their spirits lift. One box contained a drawing of the Huston Texans emblem and the Marine who opened it is from Texas and it made his day!!
Again thank you for your support.

R/S
MSgt Tim Thorn
HMLA-167 Ord Chief

"The most important six inches on the battlefield is between your ears."
- Gen. James Mattis
June 20, 2013
Military Moms and Wives Of Brazoria County,
Thank you for the care packages! My Marines enjoyed them! Thank you for your support!

GySgt Williams, Jerod W
VMM-265 CH53E Maintenance Control
31st MEU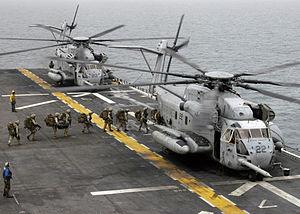 June 18, 2013
Just let you know I talked to my cousin they received the care packages and there are a lot of very Happy soldiers! Thanks So Much! God Bless you and your family and all those that volunteered their time and resources to make this happen!
Melissa Rayl

February 21, 2013

Dear Texas,
Just a quick note to say thank you for taking care of the troops.

I was blessed with a care package that was sent from your
organization---Military Moms & Wives of Brazoria Co---it arrived today
at Forward Operating Base Joyce.

The box was filled with items that only a fellow Texan would
recognize---I am proud to inform you that my family and I are from San
Antonio---unfortunately it has been the one place that I have hardly had
the pleasure of visiting over the past 23 years of Active Duty---but
I've been to Iraq, Kuwait, Afghanistan (four times), Korea, Alaska,
Germany.

I just want to thank you for your generosity and tell you that I have
about 350 Soldiers in Theater and two Afghan National Army Security
Force and Advisory Teams (SFAAT)---If you have any remaining items. (If
not, no worries)

I shared the box you sent with the Brigade SFAAT Team---the contents
went very fast and everyone really enjoyed the items you sent.

Our mission is to mentor the Afghan Army so that they can fight the
fight as we work our way home----I hope to see the great state of Texas
soon---until then, thanks for making the deployed Soldier part of your
community.

Respectfully,

CSM Victor Fernandez II
2/201st Corps SFAAT (TM Sparta)
"SPARTANS"
July 2, 2012

Hi I am 1SG Smith with the 712th MP Co. out of Houston, Tx. We have been deployed to Africa now for 6 months and are counting the days till we return to our families. My unit has received care packages from your organization and I wanted to share the impact with you. It is truly a blessing to receive anything from a stranger, this holds so much appreciation and gratitude for my Soldiers. The mail day is and always has been a large lift for military personnel regardless of branch or service. I wanted to take a moment to thank you and tell you that I and my Soldiers really appreciate your gifts and efforts. I will make sure that they are all familiar with your organization so that we can assist you after our return. Thnaks again and please let everyone that is involved know that we are so thankful.
1SG Louis P. Smith
712th Military Police Company

June 30, 2012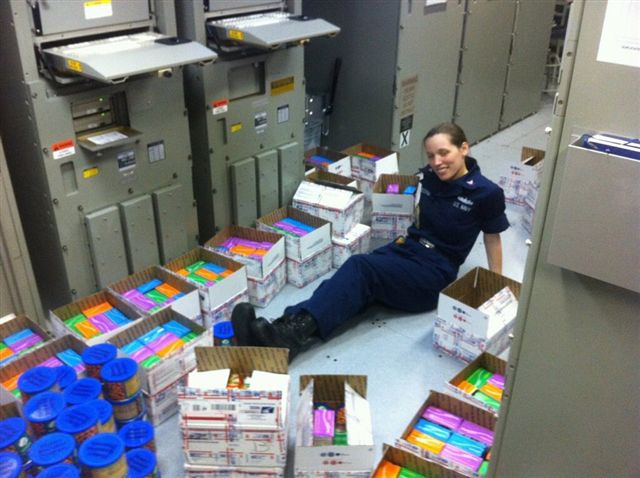 USS Gravely is feeling the love. Military Moms and Wives of Brazoria County, you're the best! Thank you!
Madeline Grissom Birdsong


June 26, 2012